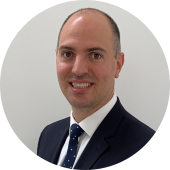 Meet Filippo Phillippides, Commercial Director for Middle East and Africa at Jaeger-LeCoultre. Born and bred in South Africa, he has spent over a decade in The Group across three regions. Since leaving his family business to originally join Cartier as a Sales Executive, his career has provided him with a world of opportunities to explore.
My career journey
I started working for the Group in South Africa in 2011. I left my family business to join Cartier, as a Sales Executive taking care of the wholesale side of the business. I was responsible for building relationships with our wholesale partners for all the product lines: perfumes, sunglasses, accessories, and watches. It was an intense experience and it changed my whole life!
After a few years, I was promoted to Area Sales Manager for Sub-Saharan Africa. During those times, I got "Sales Person of the Year" three times in a row! Then I took over the Brand Manager for South Africa. At the time, I was managing our specialty watchmakers for Sub-Saharan Africa. I did this for three years. Then I had the opportunity to relocate to Geneva and I took over a Business Development role with Jaeger LeCoultre. After 3 years, I relocated once again to Dubai to take over a Commercial Manager role for MEIA.
"My passion for watchmaking started in my youth. At a very young age, I worked for a watch counter in a South African department store. The watch industry always fascinated me. I loved the technical aspect, but also that these wonderful timepieces are created with people's hands."
My biggest learning
This experience has opened my eyes to mobility. I am now on my 3rd leg of new regions and countries. It has given me great opportunities to understand global trends, business, and diverse cultures. I am learning on a daily basis.
Some final words
The support of the company and employees, especially during these unprecedented times, has impressed me. Richemont really cares for its employees and this is really an important element. This family spirit has resonated with me and it is one of the reasons why I have stayed with the Group for so long. They give you the opportunity to experience the different Maisons and countries throughout your career. The Group has a wonderful platform for people to go on this journey. If you work hard, you will be identified as someone that can grow the business and take on these challenges.